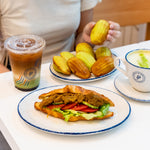 A Ramadan Filled with Blessings
You're in for an exceptional treat this Ramadan! Enjoy a hearty, festive meal prepared specially for you and your family at your nearest Délifrance outlet. Available from 15 March to 30 April 2023.
Our Ramadan Set ($12.90) features a lightly spiced Chicken Satay Sandwich paired with your choice of hot or iced Pandan Gula Melaka Latte. If the beverage is not your cup of tea (or latte!), you can shake things up with our Pandan Gula Melaka Frappe for an additional $0.60.
Riding on the gula melaka theme, enjoy $2 off this season's Gula Melaka Coconut Madeleine (box of 8) with every Ramadan set ordered and bask in the sweet blessings this festive season has to offer.
For an all-day snackable treat, the Serunding Kelapa Feuillete ($3.90 each, $6.80 for 2) is a must-try. Grated coconut is cooked to a nutty and caramelized finish and baked in a buttery flaky pastry. Every bite is a comforting blend of savoury-sweet delight.
Dig into the Chicken Satay Sandwich ($8.80) which comes with a choice of buttery croissant, crusty baguette, or rustic ciabatta bread. The filling is luxuriously addictive, with chunks of chicken coated in its nutty sauce.
If you're in need of a midday perk-me-up, the Pandan Gula Melaka Latte (hot $6.40, iced $6.80) will keep your senses tingling through the day. Caffeine spiked, and sweetened with gula melaka, the festive latte boasts a nice caramel-like taste with hints of pandan flavour. For a frosty alternative, the Pandan Gula Melaka Frappe ($7.50) is the perfect drink to savour in Singapore's tropical heat.
Relish in the Gula Melaka Coconut Madeleine, a fluffy, delicate sweet treat— the perfect way to end off any meal. At $8.50, share the box of eight decadent goodies with your loved ones.
For full locations, visit here.