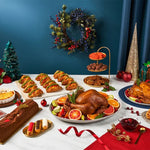 Joyeux Noël from Délifrance Singapore
Délifrance is spreading holiday warmth this merry season with our thoughtfully selected bundles, festive platters, and delectable gifts, all of which are available online at delifrance.com.sg and in selected stores.
Our festive offerings this year will bring a splendour of savoury treats, delectable sweets, and bundles of both if you wish to have the ultimate indulgence for you and your family this Christmas. 
Bring Loved Ones Together with Délifrance's Newest Christmas Bundle

This holiday season, Délifrance is here to treat you and your loved ones to an extravagant feast to remember. Our new festive bundle, the Joyous Christmas Feast ($228), is full of joyous dishes that are sure to delight. Indulge in our Chicken Lasagna and a whole Jumbo Roasted Chicken accompanied with a scrumptious gravy and delectable condiments. Pamper the table with our Premium Assorted Mini Croissant Sandwich Platter (12pcs), including tomato & cheese, Italian chicken poloni, and turkey ham and cheese. Our Joy of Délifrance Log Cake will finish the spread of dishes on a decadent note, made with 70% Valrhona chocolate, that is sure to leave a memorable impression at your party.
Bundles Specially Selected From Ours to Yours 
If you desire to satisfy a larger party or bigger appetites, opt for our classic Lavish Christmas Feast ($298) bundle, ideal for those hosting a group of 8–10 people. This hearty banquet includes our perfectly balanced tangy and savoury Roasted Rosemary Cranberry Turkey stuffed with Chicken Pizza Meatloaf. Served with Mini Pizza Baguette Platter (12pcs), Chicken Lasagna, and a Joy of Délifrance, the feast will leave your party jolly and satisfied.

Extravagant Christmas Feast
 For more intimate celebrations, our smaller bundles, such as the Exquisite Christmas Feast ($218) can satisfy your needs, consisting of our Stuffed Chicken Meatloaf and served with savoury brown sauce, Chicken Lasagne, Premium Assorted Mini Croissant Sandwiches Platter (12pcs) and finishing off with our Berries & Hibiscus Log Cake or the Extravagant Christmas Feast ($228), which includes Roasted Turkey Breast, Chicken Lasagne, Mini Pizza Baguette Platter (12pcs), and Coconut Citrus Log Cake. Both sets are suitable for 6-8 people.



Luscious Sweet Treat Box

For those with a sweet tooth we have our Luscious Sweet Treat Box ($45). This bundle only contains our most popular sweet delicacies, including our Traditional Christmas Fruit Cake, Gingerbread Cookies (Boy & Girl), Cinnamon Gingersnap Cookies, and Piemontaise Cookies.
Tailor Your Own Feast with Our À La Carte Options
If you wish to create your own festive menu Délifrance also offers an array of à la carte options. You may individually order our Roasted Rosemary Cranberry Turkey ($188), Roasted Turkey Breast ($118), Stuffed Chicken Meatloaf ($88), Jumbo Roasted Whole Chicken with Stuffing ($98), Chicke n Lasagne ($43), and a Beef Shepherd's Pie ($46). 
 


Joy of Délifrance
 
 
Coconut Citrus Log Cake



Berries & Hibiscus Log Cake

There is always room for dessert and you may complete your feast with our celebratory range of log cakes and other Christmas confections. A festive classic, the Joy of Délifrance ($72.80) made with indulgent 70% Valrhona chocolate which is rolled in a rich velvety chocolate cake is a decadent end to your meal. New to the table are two gorgeous masterpieces for fruitier palettes, light and moist 9" cakes including the Berries & Hibiscus Log Cake ($69.80) and Coconut Citrus Log Cake ($69.80), which will captivate your guests with their balance of sweet and tangy.



Chocolate & Orange Brioche Panettone

For a mix of fruit and chocolate, order our Chocolate & Orange Brioche Panettone ($21.80). Other sweet treats include our luxurious Traditional Christmas Fruit Cake ($15.30) and the Engadine Nut Tart ($29.80). Délifrance also showcases a charming variety of cookies including our Cinnamon Gingersnap Cookies ($13.80), Piemontaise Cookies ($13.80), Almond & Pumpkin Florentine Crisps ($15.30), or Gingerbread Cookie ($3.90) for those who prefer the crunch of a biscuit over the delicate softness of cakes. 
Corporate Celebrations
Impressing your colleagues this Christmas is not an issue with the plethora of treats available. Délifrance offers an individual Festive Meal Box, which consists of one each of Mini Raspberry Danish, Mini Caramel Swirl Danish, Mini Chocolate Pain Suisse, Classic Madeleine, and Pandan Madeleine at $7.90. For sharing platters, you may choose from our exclusive Assorted Festive Mini Cakes (30pcs at $78), Assorted Premium Mini Eclairs (18pcs at $45), or our signature Mini Fruit Tartlets (30pcs at $58) available in strawberry, kiwi, and peach flavours. 


Assorted Premium Mini Eclairs (30pcs)

In this season of giving, our three gift bags ranging from $19.90-$39.90 also serve as great presents for friends, family, or acquaintances. All gift bags include a Délifrance tote and a Christmas greeting tag.
In-Store Exclusives and Promotions 
Join us in our stores to enjoy even more special promotions, such as our Festive Set Meal which includes a Smoked Chicken Cranberry Sandwich and any festive drink for only $12 and receive a Festive Sliced Cake with any purchase for only $5, and many more. 
Enjoy an early bird discount of 15% online with a minimum spend of $100 when you order before 4 December 2022 (T&Cs apply). Citibank Credit and Debit Card Members can also enjoy an additional $10 e-voucher on top of the 15% early bird promotion and also a 10% off with minimum spend of $100 for orders placed between 5th December 2022 to 23rd December 2022 online and 10% off in-store purchases between 14th December 2022 to 31st December 2022. Terms and conditions apply.
For complete offerings for both online and in-stores, visit https://www.delifrance.com.sg/pages/festive-2022-brochure for full online brochure to view more details and availability of range at other outlets and online and make your order via www.delifrance.com.sg.