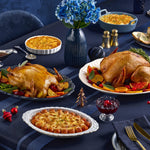 Revel in the Joy of Christmas
Revel in the joy of Christmas from 14 November to 31 December 2023 with a sumptuous spread of roasted meats, luxurious log cakes and indulgent festive platters with Délifrance.
Rekindle new and old friendships with Délifrance's festive bundles and tuck into the Lavish Christmas Feast (S$302.80, serves 8 to 10 pax) consisting of a whole roasted rosemary turkey stuffed with chicken pizza meatloaf, savoury brown sauce, and cranberry sauce. Accompanying chicken lasagna offers a comforting homecooked D'light, and premium assorted mini croissant sandwiches filled with chicken ham & cheddar cheese, smoked salmon, and truffle egg mayo, will please any gastronome. The Lavish Christmas Feast comes with signature log cake, Joy of Délifrance – an iconic Christmas treat that is made with decadent dark chocolate.
The Exquisite Christmas Feast (S$200.80, serves 6 to 8 pax) comes with a stuffed chicken meatloaf that is served with savoury brown sauce, as well as chicken lasagna. The mini pizza baguettes are speckled with chicken ham, peppers, and black olives, much like a decorated Christmas tree. End the feast with Strawberry Yoghurt Log Cake shaped to spell "XMAS" – a beautiful additional to the dining table.
For fans of tender and juicy poultry, the stuffed jumbo whole chicken in the Joyous Christmas Feast (S$223.8, serves 6 to 8 pax) makes for a lovely centerpiece. Accompanied with chicken lasagna, and assorted mini quiche in a trio of flavours – spicy otah, spinach and chicken ham & mushroom. The Peach Oolong Log Cake makes for an oriental and fruity end to the joyful feast.
Yule logs are synonymous with Christmas as they bring good luck into the family, and in the modern day, log cakes are an integral part of the celebration. The Joy of Délifrance (S$73.80) is not just a staple in the season of the first Noël, but a luxurious tradition. Other fruity renditions include the Peach Oolong Log Cake (S$70.80), Yuzu Matcha Log Cake (S$70.80) and Strawberry Yoghurt Log Cake (S$70.80).
Shop Festive Bundles
here
.
Add sparkle to the dining table with Délifrance's festive spread of the season's best finger food. The Premium Assorted Mini Croissant Sandwiches (S$48.80 for 12 pieces) is stuffed with chicken ham & cheddar cheese, smoked salmon, and truffle egg mayo. Premium Mini Viennoiseries (S$48.80 for 30 pieces) features post-autumn flavours like apple pie, black forest, and blueberry cream cheese, while the Assorted Festive Mini Cakes (S$86.80 for 30 pieces) are bite-sized renditions of the log cakes. Crowd favourite Assorted Premium Mini Eclairs (S$45.80 for 18 pieces) of lemon, Lotus speculoos and chocolate will bring smiles to kids' faces, and Assorted Mini Quiche (S$48.80 for 30 pieces) are filled with spicy otah, spinach or chicken ham & mushroom. Joining the festive exclusives are signature platters of pizza baguettes, mini fruit tartlets, classic madeleines and more.
Shop Festive Platters
here
.
Sprinkle the magic of Christmas with sweet treats perfect for holiday gifting. Traditional Fruit Cake (S$15.80) and Gingerbread Cookies (S$4.20 each) are must-haves during this jolly season, while homemade bakes like Florentine Cookies (S$15.80), Chocolate Mint Cookies (S$15.80), and Cranberry Cookies(S$15.80) will keep the munchies at bay.