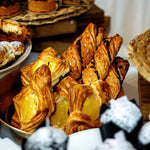 Tea Party Extravaganza: 5 Ways Sharing Platters Make An Impression
Food is an indispensable part of any event and even more so when it comes to tea parties! The right menu is a motivating factor for people to attend, creates common conversations for bonding, and is also a great way to show your hospitality. 
If you are planning a tea party extravaganza and have no idea what to serve your guests, ordering sharing platters in Singapore is one of the best ways to impress and make the event a moment to remember. 
Here are five ways how sharing platters will awe your guests - read on to find out more. 
1. Wide selection of food
The wide selection of food you can choose from when ordering sharing platters allows you to cater to different tastes and dietary preferences, and this is one of the biggest reasons why they are preferred at tea parties. 
The variety of scrumptious options will also make your guests feel valued because their preferences were taken into consideration, making it a truly unforgettable experience. 
2. Casual alternative to sit-down meals
If you were hosting a dinner party, then ordering catering for formal sit-down meals would make sense. On the other hand, tea parties are meant to be casual settings where guests feel comfortable and relaxed. Hence, sharing platters is a great idea. 
As the name suggests, sharing platters come with bite-sized nibbles that are meant to be shared among the guests. This simple act of sharing does more than you think - it encourages conversations and builds friendships that will make the event a fun and enjoyable time for everyone! 
3. Aesthetically pleasing
There is no better way to spruce up the tea party table than with sharing platters! Different mini bites put together make for an aesthetically pleasing set-up that stands out from the usual buffet or catering arrangement. 
As most people feast with their eyes first, sharing platters like Délifrance's Bundle Set for 10 will certainly be a sight to behold. 
4. Reduce food waste
Ever experienced overordering for your party and having lots of unfinished food left behind? Not only is food waste bad for the environment, it can also leave a bad impression on your guests. 
While getting your guests to RSVP is a feasible way to ensure better planning so as to reduce food waste, unforeseen circumstances may still occur at the last minute. Hence, another way to combat this problem is by ordering sharing platters that will lead to a reduction in food waste per diner, as compared to catering individual meals or massive buffets. 
6. Comfortable dining experience
Unlike formal dinners with a set number of courses, ordering sharing platters for a tea party gives your guests the chance to decide what they like or do not like, achieving a comfortable dining experience like no other. 
This means that both over or undereating can be avoided since guests get to pace themselves and go for more or less depending on their needs. Providing your guests with the ability to decide what and how much they want to consume is a great way to make the tea party a truly pleasant affair. 
Sharing platter delivery in Singapore
Here at Délifrance, we understand that party planning can be hectic and overwhelming. But you can leave all your worries behind when you order a sharing platter from us! We only deliver high-quality and visually appealing food that will definitely impress your guests. 
Shop from a range of delicious and authentic French pastries and desserts, ranging from croissants to canapés and madeleines.