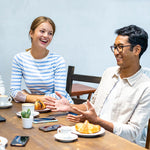 5 Best French Pastries To Send A Friend According To Their Group Roles
If you are part of a small group of close-knit friends, you would have most probably noticed that each of you plays a different role in the friendship influenced by your varying personalities. But did you know that your role and personality type says so much more about you than just how you behave in your day-to-day life? 
Just like how personalities can be likened to an animal such as a dog or cat, it can also determine the type of French pastry that suits you best! So if you have friends whose birthday or special occasion is coming up soon, you might want to consider ordering pastry box delivery containing pastries that remind you of them to make the event one to remember. 
Keep reading to find out the best French pastry to send a friend according to the role they play in your friend group. 
1. The friend who looks cold on the outside, but is softhearted on the inside

Do you have a friend who seems cold on the outside but is actually the only one who remembers everything you say and is always the first person to wish everybody a happy birthday? Such friends are just like croissants - the cold facade they put on reminds us of the crispy and hard-looking croissant crust, but once you get to know them, you realise they have a tender heart just like the soft and warm insides of a croissant. 
When ordering a pastry box delivery, remember to include croissants as they will surely be right up your friend's alley. 
2. The friend who loves all things aesthetic

When you visit the newest cafe or an Insta-worthy restaurant with a friend who loves all things aesthetic, the camera always eats first. Though you have to wait a few more seconds (or minutes) before you can dive into your dish, your friend's dedication to searching for the best and most aesthetically pleasing places and foods makes it all worth it in the end. 
This is why ordering a dessert box containing madeleines is the perfect gift idea - the gorgeous and iconic shell-like shape will catch your friend's eye and might just end up on his or her Instagram page! 
3. The friend who is like the mum of the group
Count yourself lucky if you have a friend who is like the mum of the group - they are probably your go-to person for tissues, emergency sewing kits, hand sanitisers and every other knick-knack you can think of. Apart from whipping essentials out of their bags, this friend is also capable of offering valuable advice on relationships or life in general. Although not always the oldest in the group, they certainly seem to have the most wisdom. 
Hence, it is always a good idea to order a pastry box delivery in Singapore with baguettes included for this friend. Baguettes are one of the most iconic French bakes - they are versatile and can be used in a wide variety of dishes, just like the friend who is always ready to lend a listening ear or a shoulder to cry on. 
Learn more: Get A Taste Of France With These 6 Iconic French Pastries & Viennoiseries
4. The friend who is as popular as an influencer
Never afraid of being in the limelight, your friend feels and looks like an influencer and they know it. Although constantly being in the spotlight can seem offputting to others, it is their charming personality that makes them naturally the centre of attention and earned them a spot in your clique. 
If you know this friend has a sweet tooth, then dessert boxes filled with eclairs will make the best gift. Eclairs are decorated with fanciful glazes and sometimes topped with fruits or nuts to add pizzazz, suitable for a friend who stands out from the crowd. 
5. The friend who is ever so easygoing
Unlike people pleasers, an easygoing friend has the ability to make everyone around them feel comfortable. They do not get worried, upset or annoyed easily and tend to have a carefree attitude that can rub off on others, helping them feel relaxed. 
French chouquettes, little choux pastry puffs with an airy and hollow centre, may remind you of your easygoing friend - they can be filled with any custard filling of your choice, just like the friend who goes with the flow. Remember to include chouquettes in your pastry box delivery to let your friend know how much you appreciate them!
French pastry and dessert delivery in Singapore
Send Délifrance's pastry and dessert boxes to a friend who deserves some love - we have a wide selection of French pastries ranging from croissants to puffs and desserts like madeleines and eclairs for you to choose from.