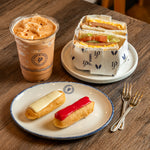 Crossing Cultures this National Day
This National Day indulge in childhood comfort dishes with flavours that evoke a sense of nostalgia. From now till 30 September 2023, Délifrance introduces a taste of locally inspired fare from the different races and cultures that make up our sunny island's unique identity.
The National Day Bundle ($15.80) is a celebration of all things Singapore. It consists of &so Meatless Luncheon & Egg Sandwich, a decadent take on a childhood favourite, our rendition is made veggie-friendly with &So Tasty Luncheon which is made with high dietary fibre Mycoproteins, and sandwiched between two slices of lightly toasted pain de mie. To accompany the sandwich is an ice-cold beverage inspired by a coffee shop staple, Teh C Frappe, and red and white desserts of Strawberry and Vanilla Éclair that is sure to make you proud you're Singaporean.
We're bringing back crowd-favourite, Curry Chicken Potato with Baguette ($11.80), the ultimate comfort food known to many - and admit it, our freshly baked French Baguette make the best vessel for sopping up every drop of savoury goodness.
It's always a feast for the eyes glancing through our display case where you'll find other delectable localized French snacks like Otah Swirl ($4.20); Veggie Kheema Puff ($3.60), a flaky warm vegetarian feuillette filled with a tangy tomato center; and Ikan Bilis Donut ($3.90) a fondly remembered after-school treat.
Make space for dessert as our Apam Balik Cake ($7.20), inspired by the local variations of the peanut pancake, Murtabak Manis or Min Jiang Kueh, is a wonderful end to the meal for the young and old.  Refresh your palate with the Merlion Tropical Fizz ($6.20), a concoction of rose and watermelon topped with a lively fizz.
Other in-store deals:
Enjoy Apam Balik Cake, Teh C Frappe and Merlion Tropical Fizz for only $5.80 with every National Day Mains or Sandwich ordered.
Available from now till 30 September 2023 at all Delifrance outlets except Changi General Hospital. Find your nearest Délifrance
here
.