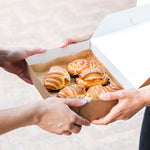 French Pastry Box: The Perfect Gift for Any Occasion
Does giving gifts to your loved ones make you happy? Research has shown that gift-giving lowers your blood pressure, increases your self-esteem and even boosts positive feelings, which is why you feel happier and healthier when giving presents to the people you love. 
But, finding the perfect gift can be nerve-racking. 
Whether you're giving someone a gift for their birthday, an anniversary, or for Christmas, we have a solution for you—a French pastry box. It combines exquisite flavours and the delicate artistry of French flavours to provide an experience that other gifts cannot compare to. These culinary delights can help you capture your recipients' hearts and palates to brighten their day and fill their bellies. 
1. Delight the Eyes with a Box of Fine French Pastries
French pastries are known for their enticing appearance; their delicate shapes, vibrant colours, and intricate topping decorations are truly a feast for the eyes. Each pastry box is a work of art, designed to captivate and enthral the recipient, as well as contribute to a luxurious experience.
Whether it's a meticulously piped éclair, a nice flaky croissant, or a perfectly airy macaron, the pastries come together to form an exquisite presentation that delights both the taste buds and the eyes. This makes it the perfect gift to awe and enchant on any occasion.
2. Cater to Every Need with a Diverse Selection of French Delights
When it comes to gift-giving, finding the perfect present that suits every taste and preference can be challenging. But with French pastry boxes, you're offered an exceptional solution filled with a diverse range of delectable options.  
Inside a French pastry box, you'll discover an assortment of tantalising French teatime treats that cater to different taste buds. From buttery croissants and decadent pain au chocolat to spongy madelines and hearty, savoury puff pastry, the options are endless, delivering a box of tastiness to whoever you're gifting it to. 
Learn More: Tips For Baking Flaky & Buttery Croissants, According To Délifrance's Chefs
3. Satisfy Taste Buds with Indulgent French Flavours
A French pastry box is the epitome of indulgence, offering a gastronomic experience similar to dining in a French café along the streets of Paris. This makes French pastry boxes the perfect gift for any occasion. 
Each pastry within the box is a masterpiece in itself, meticulously crafted to deliver an explosion of flavours. From airy choux pastries and rich, creamy interiors, to luscious flavours with a hint of refreshing goodness, the variety of flavours parties in the mouth to offer an indulgent experience. 
4. Suitable for Every Celebration
One of the remarkable qualities of a French pastry box is its adaptability to different celebrations. Food isn't just necessary for survival, the consumption of food is an experience in itself that nobody can say no to. Whether it's a graduation, wedding, or any other trivial to significant event and celebration, these boxes of treats present a level of versatility that makes them a standout gift for any occasion.
Deliver Joy and Excitement to Your Loved Ones with Délifrance
Want to gift a little something to brighten up someone's day? Look no further than Délifrance! Délifrance offers an unparalleled selection of French treats in Singapore that will be sure to leave a lasting impression on your loved ones. So, if you want to let the indulgent flavours and exquisite craftsmanship of French pastries create unforgettable moments of joy, consider our French pastry box delivery. Order now.