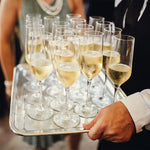 Incorporating French Pastries & Viennoiseries Into Your Wedding
When it comes to planning your wedding, there are a million little details to consider ranging from the dress and the flowers to the music and the food. While the menu may not be the first thing that comes to mind when you think of your big day, it is an incredibly important part of the celebration. 
After all, what is a wedding without a delicious spread of food and desserts for you and your guests to enjoy? If you are a fan of French cuisine, you might be considering incorporating some classic French pastries and viennoiseries into your wedding menu. 
Their delicate textures, rich flavours and stunning presentations are sure to be a hit with everyone in attendance. So, whether you are dreaming of croissants, macarons or tarts, read on to discover how ordering French pastry boxes and dessert box delivery can add a touch of elegance to your special day.

1. Serve savoury canapés at the cocktail reception
Savoury canapés are perfect bite-sized snacks to whet your guests' appetite before the main meal. They pack a serious flavour punch with their delicate pastry shells, creamy fillings and savoury toppings that will leave your guests drooling for more. Not only are they delicious, but they can also get your guests mingling and chatting before the climax of the event. After all, nothing brings people together quite like a shared love for good food! 
Kick off your cocktail reception by ordering French pastry boxes containing a variety of savoury canapés that will keep your guests raving about them long after the wedding is over. 
2. Mini éclairs are the ideal dessert after a heavy meal
Weddings can be pretty heavy affairs - between the multiple courses of rich, indulgent food and the endless glasses of champagne, it is easy to feel a little weighed down by the end of the night. Mini éclairs with their light, delicate pastry shells and creamy, decadent fillings are some of the best desserts to cap off a heavy meal.  
Not to mention, they are incredibly versatile - whether you are a fan of classic vanilla or more adventurous flavours like coffee, there is an éclair out there for everyone. 
Order dessert box delivery in Singapore and simply arrange the éclairs on a platter or tiered stand and your guests can help themselves. 
3. Pastry or dessert boxes as wedding favours
Wedding favours are a great way to thank your guests for joining you on your special day, and what better way to do that than with a delicious pastry or dessert box? Not only are they a thoughtful and tasty way to show your appreciation, but they are also practical gifts that your guests can enjoy after the wedding. 
However, it is essential to ensure your pastry or dessert box delivery is timed right, so the treats stay as fresh as possible. You can opt to have them delivered to the venue on the day of the wedding or to each guest's home. 
From macarons to mini tarts, there are so many sweet options to choose from. Or, if savoury treats are more your style, consider filling your pastry boxes with gourmet croissants and other viennoiseries. 
4. Tartlets and madeleines will spruce up your dessert table
If you are looking to add some French flair to your wedding dessert table, look no further than tartlets and madeleines. These elegant little treats are the perfect way to bring a touch of sophistication to your sweet spread and are sure to impress your guests with their delicate flavours and gorgeous presentation. 
Additionally, their petite size makes them the ideal choice for a wedding dessert table where guests will likely be sampling a variety of different treats. 
Order dessert box delivery and wow your guests with a little taste of French elegance! 
Say "I Do" to French Pastries and Viennoiseries
Délifrance has got you covered with our exquisite range of party food delivery featuring French pastries and viennoiseries that are sure to impress your guests and leave a lasting impression on their taste buds. 
From flaky croissants to delicate éclairs, every bite of our creations is a celebration of the French baking tradition.