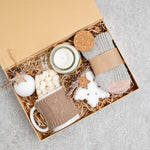 4 Things To Include In A Care Package That Your Loved Ones Will Thank You For
Sending a care package to a loved one is one of the most heartwarming gestures that you can do to show your affection and support. Whether it is for a birthday, a holiday, or just a simple "thinking of you" gesture, a care package can lift someone's spirits and make them feel loved and appreciated.

But what should you include in a care package? While the possibilities are endless, it is important to choose items that are thoughtful, useful and most importantly, that your loved one will thank you for.

Let us explore some of the best things to include in a care package that will make your loved ones feel special and grateful - keep reading to find out more.

1. Dessert or snack
Sending food is guaranteed to put a smile on your loved one's face and the best part is you do not have to be a culinary genius to offer something tasty and thoughtful. From sweet to savoury, the possibilities are endless when you choose to order a dessert box or snack box. 

If you are looking to send a care package to a loved one, you want to make sure that everything inside is not only delicious but also meets their dietary requirements. Délifrance's pastries and viennoiseries are mouth-wateringly delicious and halal-certified, making them the perfect addition to any care package. 

Choose from buttery croissants to sweet madeleines and many other French delicacies to satisfy your loved one's cravings. 

Learn more: 5 Best French Pastries To Send A Friend According To Their Group Roles

2. Cosy items

Sending a dessert box delivery is a sweet way to show your love but if you want to make your care package even more heartfelt, consider adding some cosy items. For instance, include a pair of fuzzy socks to keep your loved one warm while they indulge in the treats you sent them, especially if they are feeling under the weather. 

3. Gift card

Including a gift card in your care package is like giving your loved one a golden ticket to their favourite store or restaurant. It is a thoughtful gesture that will not only brighten their day but also allow them to treat themselves to something special. 

If your loved one enjoys French pastries but you have no idea what to get, Délifrance's gift vouchers and e-gift cards will be the perfect accompaniment to your care package. Your recipient can choose from a variety of snack boxes containing delectable pastries and viennoiseries, each one freshly baked and bursting with flavour. It is an excellent way to let them savour the delicious taste of France, right in the comfort of their own home.

4. Self-care items

Whether it is a stressful work week or challenging times, self-care can make all the difference. Think about including items like face masks and scented candles that will help your loved one relax and unwind, taking a much-needed break from the hustle and bustle of everyday life. 

Soothing teas are also a great addition as they go perfectly with French pastries and desserts. 

Learn more: Your Guide To French Afternoon Tea: Pastries To Get & Etiquettes To Follow

When words are not enough, a care package says it all
Care packages are more than just a gift — they are a tangible expression of love, kindness and support, bringing comfort to our loved ones no matter where they are. 

The next time you want to show your love and appreciation, consider ordering dessert box delivery or snack boxes in Singapore from Délifrance. 

Our wide variety of French delicacies is sure to delight even the pickiest taste buds. 

Shop now!