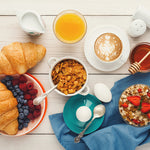 Indulging In A Typical & Authentic French Breakfast In Singapore
Hoping to experience a typical and authentic French breakfast without having to travel across the globe? Délifrance is your one-stop spot for pastries and viennoiseries so you can indulge in flaky, buttery and sweet treats while on our little red dot. 
Keep reading to find out some fun facts about French breakfast and how you can replicate your own with our breakfast catering available in Singapore!
What is a classic French breakfast like?
Breakfast is often deemed the most important meal of the day in many cultures, including in Singapore. Interestingly, lunch is the most significant meal for the French and even serious corporate businesses close an eye when employees spend more than an hour on their lunch breaks. 
Hence, French breakfast is usually kept light and sweet, as opposed to the savoury meals that Singaporeans enjoy in the morning.
Although it is not a daily occurrence for most French, having a pastry or two like pain au chocolat and croissants for breakfast will transport you to France. Délifrance's pastry box containing mini viennoiseries, puffs and chouquettes is a mix of sweet and salty that will satisfy your tastebuds. 
Fun fact: The croissant was called "kipferl" and first originated in Austria in the 13th century before becoming a beloved French pastry.
Rather than pastries, the French think of bread as a staple breakfast item and a warm and crispy baguette is generally their preferred choice. It is paired with butter and jam - the perfect combination to get your day started on the right note. If you would like to add pizzazz to your breakfast, opt for Délifrance's Mini Pizza Baguettes which are topped with a variety of ingredients like chicken ham and cheese.
Ordering pastry box delivery and getting baguettes are not all - for the full French breakfast experience, make sure you pair the bites with a cup of hot coffee. Caffeine is an integral part of French breakfast as a perk-me-up. 
Learn more: How Catering Breakfast for Employees Makes a Difference in the Workplace
If you are not a fan of coffee, you are in luck because a glass of fresh juice is also essential when it comes to French breakfast. Orange juice is a great source of vitamins and a refreshing beverage to help you wash everything down. Our zesty bottled Orange Juice is the perfect accompaniment to your breakfast catering. 
This might come as a surprise to you, as having cereal with milk for breakfast seems like an American thing to do. But it has gained widespread popularity in France as a breakfast item since it is quick and easy to prepare - which is not surprising since breakfast is a fuss-free affair for the French. 
Get your hands on classic French breakfast items from Délifrance
Délifrance is dedicated to bringing a taste of Paris closer to home with our wide selection of aromatic coffee and authentic French pastries and viennoiseries. 
Order your breakfast catering or pastry boxes from us today for the full experience.