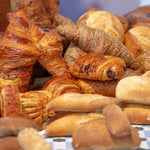 The History & Evolution Of Classic French Pastries & Desserts
Classic French pastries and viennoiseries like croissants and madeleines have existed for centuries, but have you ever stopped to think about the history behind these iconic bakes?
While not many pay attention to how our well-loved pastries came about, knowing some fun facts about their origins could make the next time you order food platter delivery in Singapore a bit more fun. 
Keep reading to find out more!
1. Croissant - used to be called the "kipfel"
Contrary to popular belief, the croissant was called "kipferl" and first originated in Austria in the 13th century before becoming a beloved French pastry. They were often stuffed with nuts and other types of filling while also being denser and sweeter compared to the flakiness and butteriness we are familiar with today.
Baker August Zang then brought the kipfel to his patisserie in Paris in the early 1800s, which was flakier than its traditional counterpart. Parisians began calling them croissants because of the pastries' crescent-like shape. Finally, in 1915, French baker Sylvain Claudius Goy came up with the croissant recipe that generations would come to love for years. 
If you are ordering a food platter delivery for your next party, make sure to include croissants to let your guests experience Parisian life in Singapore. 
Learn more: Get a Taste of France With These 6 Iconic French Pastries & Viennoiseries
2. Macarons
The elegant macarons that come in gorgeous colours and are often gifted to friends and family are considered to be of Italian origin, dating back to the 8th century. This dessert was introduced to France when Italy's Queen Catherine de' Medici married France's King Henry II and her pastry chefs brought the recipe along. 
Macarons then became popular in France, with the first written recipe emerging in the 17th century. 
3. Madeleines
Madeleines are popular French cakes that have gained so much love all over the world thanks to their beautiful shell-like exterior and light texture that is easy on the palate. Synonymous with their aesthetic appeal, madeleines also boast an interesting history.
According to legend, a young girl called Madeleine stood in as pastry chef to the Duke of Lorraine but the only thing she knew how to bake was her grandmother's recipe. Everyone adored them and thus, the 'madeleine' was born. 
If you plan on ordering a halal dessert box in Singapore for your party, consider Délifrance's Chocolate & Pandan Madeleines to end your event on a sweet note. 
4. Eclairs
Eclairs are said to have been created in the early 1800s by Marie Antonin Careme, a highly esteemed French chef. It gained more popularity in the 19th century, but it was deemed as a traditional pastry with fillings kept simple such as classic vanilla and chocolate. 
Now, eclairs have transformed into Instagram-worthy desserts that are intricately decorated and filled with a variety of flavours to satisfy countless tastebuds. 
If you are planning to throw an afternoon tea party, order dessert boxes in Singapore that come with eclairs to make them the perfect accompaniment. 
Learn more: Your Guide to French Afternoon Tea: Pastries to Get & Etiquettes to Follow
Get authentic French pastries in Singapore
Some of these renowned pastries may not have originated from France, but the French certainly made a mark on the world by putting their own twists. 
Shop Délifrance's selection of halal party platters and dessert boxes available in Singapore for authentic French pastries to wow your guests at your next event.