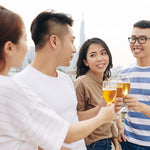 Apéro Dînatoire: Throwing A French Dinner Party
If you are thinking of hosting a dinner party that is elegant yet effortless, look no further than the Apéro Dînatoire, a popular French tradition that combines the best of both worlds. This charming soirée is the perfect way to entertain guests, featuring a relaxed atmosphere that encourages mingling and socialising.

With its emphasis on small bites, wine and lively conversation, the Apéro Dînatoire is sure to impress your guests with its sophisticated simplicity. So, gather your closest friends, pour a glass of champagne, and let's explore the art of throwing a French dinner party!

What exactly is an Apéro Dînatoire?


While the Apéro Dînatoire is indeed a relaxed and informal gathering, it is also a stylish and refined affair that is all about bringing people together. Guests are encouraged to lounge on comfortable seating or mingle throughout the space, enjoying small and flavourful bites that can be eaten by hand. Although you can order party pack catering for the event, the emphasis is on using fresh and high-quality ingredients that are arranged and presented in an aesthetically pleasing manner.

This French tradition celebrates the art of snacking and socialising, with guests sipping on wine or cocktails and engaging in lively conversation while savouring the delicious bites. This is why even though an Apéro Dînatoire is casual in nature, it is still a carefully curated and thoughtfully executed event that is sure to impress your guests.

Why throw an Apéro Dînatoire?


One of the many reasons why hosting an Apéro Dînatoire is a great idea is that it allows you to spend less time in the kitchen and more time enjoying the company of your guests. With its significance on small bites of food that can be easily assembled or ordered from sharing platter delivery in Singapore, you get to focus on setting the mood and creating a relaxing atmosphere for everyone to enjoy. 

Learn more: Tea Party Extravaganza: 5 Ways Sharing Platters Make An Impression
Unlike a traditional party that requires a great deal of preparation and planning, the Apéro Dînatoire is more spontaneous and low-key, making it perfect for last-minute get-togethers or impromptu gatherings. And because guests are encouraged to mingle and relax, the comfortable ambience provides the ideal backdrop for great conversation and memorable moments.

What are some tips for hosting an Apéro Dînatoire?
Offer French pastries and desserts
No Apéro Dînatoire would be complete without a selection of delicious French pastries and desserts! From classic macarons to delicate éclairs, there are endless options to choose from that will satisfy even the sweetest tooth. Another great option is to serve classic French pastries that are easy to eat by hand, such as croissants or pain au chocolat.

Order food platter delivery from Délifrance — our Bundle Set comes with both sweet and savoury French bites so you never have to make the difficult decision of choosing one over the other. 
Add condiments to the mix
Adding condiments to your Apéro Dînatoire can be a simple yet effective way to elevate the experience and make it even fancier for your guests. Offer a selection of high-quality dips and spreads or put together a charcuterie board, another French classic which can be paired with a variety of cheeses, bread and crackers.
Starting off the night with an apéritif, a pre-dinner drink that is typically enjoyed with some light snacks to whet the appetite, is an important part of the French dining culture and sets the tone for the rest of the evening. To accompany the drink, it is important to offer some light munchies such as canapés that will help open up your guests' appetites without spoiling them.
Mini fruit tartlets and canapés are included when you order sharing platter delivery from Délifrance.
Do not set an end time for the party
One of the defining features of an Apéro Dînatoire is its relaxed and informal atmosphere, which encourages guests to socialise, snack and drink at their leisure. As such, it is generally not a good idea to set an end time for the party, as this can create a sense of pressure and obligation that goes against the spirit of the event.
Of course, this does not mean that you should let the party drag on indefinitely. It is important to be mindful of your guests' schedules and preferences, and be prepared to wind things down if the energy starts to flag or people begin to tire.

Elevate your next gathering with the charm and elegance of Apéro Dînatoire
Although throwing an Apéro Dînatoire is meant to be less stressful and time-consuming, why not let Délifrance help you create a French-style feast that your guests will never forget?

Learn more: 6 Reasons To Order Catering From Délifrance For An Event

With a wide range of delicious French pastries, desserts and snacks included in our party pack catering options, Délifrance can help you host an unforgettable Apéro Dînatoire with minimal hassle.

Order now!