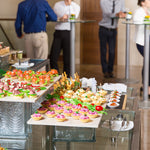 6 Reasons To Order Catering From Délifrance For An Event
Restaurants and bakeries selling French pastries in Singapore are a dime a dozen so it is understandable to feel slightly overwhelmed when looking for the best place to order party food delivery from. 
If you are having a hard time narrowing down your list, consider ordering from Délifrance instead. Here are some reasons why choosing Délifrance is going to be the best decision you can make - keep reading to find out more.
1. Halal-certified pastries

Délifrance prides itself on being an inclusive brand, which is why all of our pastries, viennoiseries and desserts are halal-certified. Our halal party food delivery service is designed to cater to a wider group of people so that every party or event is truly enjoyable for everyone, while making the planning process a breeze for hosts at the same time. 
Learn more: How Ordering From A Food Catering Vendor Makes Party Planning A Breeze
2. More than 30 years of experience
Délifrance also has more than 30 years of experience bringing a taste of Paris closer to home by offering authentic French pastries to the local crowd. We believe in only using the highest quality ingredients so that our bakes are consistent and taste is never compromised. 
3. Wide variety of options

You can find classic French pastries like croissants at Délifrance, but also a range of other viennoiseries and desserts like tartlets and madeleines. Whether you are looking for snack box catering for a casual event or dessert box delivery for a celebration - you name it, we have it. 
Learn more: 5 Occasions Perfect For Catering Snack & Dessert Boxes
4. French pastries with a local twist
Despite our French roots, Délifrance is dedicated to catering to our customers' palates. We had previously experimented with adding a twist to French pastries, such as croissants with Asian Chicken Rendang and Chilli Crab fillings. Thus, you get the chance to tantalise your guests' and your tastebuds with unique flavours when you order party food delivery from us. 
5. Renowned brand 
Every event needs food to fill hungry tummies and bring a smile to faces, so it is not an understatement to say that choosing the right menu and caterer can make or break your party. Being a household name, getting party food delivery from Délifrance will certainly set a good impression on your guests. With our proven track record, there is no need for you to worry about subpar food quality or less-than-satisfactory service. 
6. Pastries that look as good as they taste
Aesthetics play a huge role in determining an event's success too; other than decorations, the food table should feature appetising items that will make your guests excited to feast. This can help to reduce food waste and encourage conversations. Here at Délifrance, we understand the importance of delivering food that looks as good as they taste. Our sharing platters, snack boxes and dessert boxes are all packed with love to ensure they can be served immediately upon delivery. 
Order authentic French pastries from Délifrance today
Délifrance is your one-stop shop for party food delivery, snack box catering and dessert box delivery in Singapore. 
Order from us to transport your guests to France with our wide array of pastries, viennoiseries and desserts.