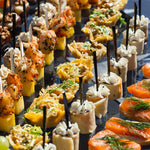 Making Party Platters Look Professional for Formal Corporate Events
When organising a corporate function, every detail, right down to the food you choose to serve and how it's presented, matters. They act as your event's social catalyst, and can even affect your brand image. 
Whether you're in charge of a high-stakes business conference, a gala to reward and celebrate your employees, or a simple networking reception, how you showcase your menu offerings can make or break your event. 
Here, we'll share some steps you can take to make your food platters look professional for formal corporate affairs. 
Learn More: Why Party Food Platters are a Must-Have at Every Event
1. Choose Quality Ingredients
The key to crafting a visually appealing food platter is to use high-quality ingredients. Not only do they have more vibrant, natural colours that captivates the eyes instantly, but they are also more consistent in terms of size, shape, and texture, which can make presenting a precise and elegant platter much easier. You'll even be delighted with a more delectable flavour! 
With quality also comes a longer shelf life, a valuable trait important for longer events. The food served will be able to better retain its appeal till the end of the day as it's less prone to wilting or spoiling. 
2. Colourful Presentation
The vibrant hues of colourful food are more than just a feast for the eyes. They also have the ability to trigger a physiological response in our brains to stimulate our appetite.
If this is the effect you want to create, then you'll need to incorporate a medley of fresh, seasonal, and bright-coloured ingredients into your presentation. An excellent way of adding a natural burst of colour to your platters is by throwing in some fresh fruits and vegetables. 
You may even consider aligning your food choices with the event's theme or your brand image to reinforce brand identity and craft a cohesive atmosphere.
If curating colour combinations through food sounds challenging, Délifrance's halal party platters feature a selection of pastries and desserts sporting vibrant colours that will whet your appetite.
3. Ensure Balance and Symmetry
Our eyes perceive balanced and symmetrical arrangements are orderly and pleasing, and this logic applies even to food presentation. When each dish is distributed evenly and served with symmetry in mind, they create a visual harmony that makes the food appear more appetising. In a corporate setting where uniformity often symbolises reliability and consistency, the clean arrangement can convey sophistication and professionalism for your event.
4. Maintain Freshness
Freshness is a quality that not only ensures that your food looks professional and visually stunning, but also enhances the flavour experience your guests get. They are able to retain their nutritional value and are less likely to become contaminated with bacteria, which is crucial for the health and safety of your event attendees. 
There are some steps you can take to make your food platters look fresher. For example, adding fresh garnishes that bring a pop of colour and aroma on top or on the side, keeping the plating pristine and minimal, and serving certain dishes like cold desserts on ice. 
Besides acquiring fresh ingredients and plating them well, freshness can also be ensured by having your food prepared and delivered just before your event commences. 
Délifrance offers a food platter delivery service that lets you get pastries and desserts that are fresh out of the oven, making sure that your guests only get the freshest treats to munch on.
5. Attention to Detail
Little thoughtful touches like your choice of cutlery, use of linen, and attention to dietary preferences can elevate your attendees' dining experience. Here are some tips for you:
Invest in high-quality, polished cutlery that reflects the formality of the event and check that they are spotless and free of watermarks or stains.

Decorate with pressed tablecloths, subtle floral arrangements, candles, or corporate branding elements to add a touch of class and professionalism.

Inquire about

dietary preferences and allergies

well in advance and provide options to accommodate all attendees.

Clearly label dishes with dietary information, such as allergens they contain, to avoid confusion and accidents.
Struggling to find good, halal food to serve at your event? Délifrance's halal party platters offer an array of flavourful bites that will tantalise everyone's taste buds and wow your guests. 
Elevate Your Corporate Function with Délifrance's Party Platters
Say goodbye to the stress of corporate catering! Délifrance's party food delivery in Singapore is designed to make your life easier while successfully catering to the various dietary requirements of your guests. Delight taste buds and enhance the experience at your event with Délifrance today!