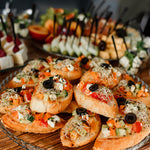 Beyond Cheese and Crackers: Unique Ideas for Party Platters
For decades, cheese and crackers have been regarded as the ideal party snack at every gathering. While there is no denying the timeless appeal of a well-curated cheese platter, it's safe to say that this classic combination has become overused
If you'd like to impress and delight your guests' taste buds, it's time you ventured beyond the familiar, and explored more party platter options. Get ready to discover a tantalising array of food ideas that will bring your party to the next level. 
Learn More: 7 Must-Have French Desserts To End Any Party On A Sweet Note
1. Veggie Garden
A platter of refreshing, crunchy vegetables is a nutritious and guilt-free alternative to the oily, deep-fried foods usually seen in parties. They cater to a variety of dietary preferences, are naturally vegan, gluten-free and low in calories, and are brimming with vitamins, minerals and antioxidants that promote health and well-being. Plus, this garden-inspired platter is going to brighten up your party naturally with its vibrant colours and ability to stimulate appetites. 
To fully enjoy a veggie garden platter, offer a few dip options and accompaniments, such as a zesty hummus dip, a tzatziki sauce, or a rich and creamy ranch dressing. These can help to refresh the taste buds when other rich-tasting foods become too overwhelming. 
2. Fruit Medley
If a veggie platter is not quite up your alley and you'd prefer a healthy but sweet addition to your party, how about serving up some fruits? A vibrant and refreshing fruit medley is a fantastic way to infuse some natural sweetness and colour to your event, serving as an immediate mood lifter and setting the tone for a joyful yet healthy celebration. It's the perfect option for guests who appreciate light and nutritious snacks amid a sea of party indulgences.
Here are some delicious ways to serve fruits at your party:
Berries with a yoghurt dip: Serve a bowl of creamy vanilla or honey-flavoured yoghurt alongside a fruit platter of berries. Guests can dip their fruit for a delightful combination of textures and flavours.

Fruits and chocolate fondue: For a touch of indulgence, set up a chocolate fondue station with dark and white chocolate for dipping fruit pieces. Strawberries, bananas, and pineapple are particularly delicious when dipped in warm, melted chocolate.

Fruit tartlets: These bite-sized delights combine the buttery, flaky crust with a luscious pastry cream or custard filling, crowned with a colourful assortment of fresh fruits to offer a harmonious blend of textures and

flavours
3. Bread or Cake Basket
Some delectable cakes and breads are perfect for the hungry guests. They not only satisfy sweet and savoury cravings, but also offer an incredible variety to cater to a broad range of taste buds. 
For sweet offerings, consider including a selection of mini cakes or pastries like madeleines. These dainty, shell-shaped cakes are visually appealing and carry a subtle, buttery sweetness that delights the palate. They're even easy to handle, which make them great options for a party. 
Savoury treats like mini croissant sandwiches are also a must have. They are substantial enough to fill tummies, and serve as an option to those who don't have a penchant for all-things sweet. 
Whether you're hosting an intimate gathering or a large celebration, Délifrance has some of the best madeleines and mini sandwiches perfect for feeding your guests.
4. Tart Canapés
Tart canapés are a feast for the eyes as much as they are for the taste buds. Their miniature size and artful presentation make them a captivating addition to your party spread, adding an element of elegance and refinement. Their size also makes them easy to handle while mingling and socialising, allowing guests to indulge in these delectables without needing a plate or utensils.
Level Up Your Party with Délifrance
Ready to elevate your next party? Our French pastry platters are the secret ingredient to turning any gathering into an unforgettable culinary experience. From buttery croissants to exquisite canapés and more, our party set delivery will be sure to impress your guests.