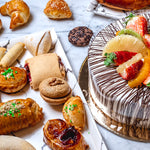 Why Party Food Platters are a Must-Have at Every Event
When it comes to hosting a successful event or party, there's one essential element that never fails to impress and delight guests: food platters. They present an assortment of delectable appetisers, snacks, finger food, and desserts to introduce vibrant colours to your venue while filling your guests' bellies. 
But apart from their aesthetic appeal and nourishing purposes, party food platters also possess other qualities that make them an absolute must-have at any occasion. Here's why.
1. Party Food Platters Offer Convenience to Both the Host and Guests
The benefits of party food platters are numerous, especially for event hosts. Gone are the days of slaving away in the kitchen for hours on end just to prepare a few dishes for your guests. Today, the availability of party food delivery and catering services takes away the stress of hosting by providing an array of food options, all artfully arranged and ready to serve. Simply do a few clicks or make a phone call and the stunning display of culinary delights will be prepared for you and brought to your doorstep. 
Learn More: How Ordering From A Food Catering Vendor Makes Party Planning A Breeze
The versatility of party food platters also make them suitable for all types of gatherings. From casual family parties to formal corporate events, they can blend into each setting seamlessly. 
This convenience extends beyond preparation as well. Instead of waiting for individually-plated meals or having to bring their own food, guests can easily indulge in a wide variety of refreshments with these food platters. 
2. Food Platters Offer a Diverse Selection of Mouth Watering Treats
One of the key reasons sharing platters are a must-have is the sheer variety of goodies they offer. These platters present a wide range of options for all palates, ensuring that there's something to satisfy every taste bud. From savoury bites like sandwiches to sweet treats like fruit tartlets and éclairs, the possibilities are endless. This also adds an element of excitement as guests can explore and savour a multitude of flavours. 
3. Food Platters Encourage Socialisation and Mingling Among Guests
Beyond the deliciousness they bring, sharing platters also encourages mingling and interaction between guests as they gather around the spread. Whether it's a casual get-together or a formal affair, food acts as a social catalyst that brings people together. Sharing a meal or snack together provides a natural conversation starter. This will help people feel more comfortable engaging in small talk while eating, which can lead to deeper conversations and stronger connections.
4. Food Platters Enhance the Overall Presentation of the Event
Food also has a remarkable ability to elevate any event. Their delightful aroma and visually appealing presentation captivates the senses and adds to the overall ambiance of the event. It sets the tone for the gathering, creating a welcoming and lively atmosphere from the moment guests arrive. 
Additionally, a well-prepared food station with carefully curated sharing platters can become a focal point in the event setup, complementing the event's theme and decor to create a feast for both the eyes and taste buds. 
The benefits of party food platters cannot be rivalled. From creating the ideal ambiance to fostering stronger relationships, food platters can transform gatherings into unforgettable experiences. So, the next time you're planning an event or a party, consider getting party food delivery to enhance the experience. 
Indulge in Childhood Comfort Dishes this National Day with Délifrance
Celebrate Singapore's National Day in the company of your loved ones and savour a delightful selection of dishes that will take you on a nostalgic journey. The National Day Bundle, priced at just $15.80, offers an array of flavours that will evoke fond memories and ignite your Singaporean pride. It features a &So Meatless Luncheon Meat & Egg Sandwich, Teh C Frappe, as well as red and white Strawberry and Vanilla éclairs. These mouthwatering treats not only look picture-perfect, but also symbolises the spirit of unity as you celebrate the nation's 58th birthday. 
Alternatively, our food platter delivery lets you choose between a variety of party food sharing platters to delight your guests' palates. Check them out here.