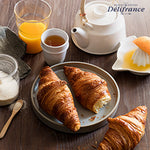 Your Guide To French Afternoon Tea: Pastries To Get & Etiquettes To Follow
Sipping on tea while nibbling on pastries is not just something the British enjoy but is also many Singaporeans' favourite pastime, perhaps to seek respite for those few hours in our fast-paced society. Similarly, the French equivalent of afternoon tea, also known as Le Goûter, refers to high tea that will keep you going until dinnertime. 
While Le Goûter is traditionally paired with sweet treats, it would not hurt to put a twist on it and indulge in other savoury French pastries that Délifrance offers to take your afternoon tea up a notch! 
Here is your guide to afternoon tea including the French pastries to get and the etiquettes to follow for the ultimate Parisian experience. Read on to find out more and see what our pastry boxes available in Singapore have to offer. 
French pastries to complement your afternoon tea
Croissants
One of the most iconic and versatile French pastries of all time is probably the croissant, a flaky and buttery viennoiserie that can be eaten on its own or with the addition of savoury or sweet toppings. Purchase any French pastry box in Singapore and the croissant would probably be included since it is a crowd-favourite; try dipping a plain croissant into your coffee to tantalise your taste buds but make sure you savour a loaded croissant on its own for a burst of flavours. 
Shop our French Sandwich pastry box which comes with two of our mouthwatering mini croissant sandwiches paired with chocolate madeleines.
Madeleines
The madeleine is yet another popular and well-liked French pastry that will complement your afternoon tea perfectly. It comes in a distinctive shell-like shape and has a buttery and light flavour and texture that is easy on the palate. Vanilla is the classic flavour for madeleines but many bakeries have been experimenting with different flavours to add pizzazz to this simple treat. 
Shop our Happy pastry box to get your hands on the vanilla and chocolate-flavoured madeleines for the best of both worlds! 
Alternatively, get your hands on our madeleines in Singaporeans' favourite pandan flavour. 
Canapés
Canapés are a type of French hors d'oeuvre, also known as decorative bite-sized food consisting of bread, puff pastry or cracker and topped with savoury ingredients. You will often see them included in high tea sets thanks to their aesthetic appeal, but also because they are incredibly flavourful despite their small size. 
Shop our bestseller Mini Tart Canapés pastry box to liven up your next afternoon tea session with your loved ones. Flavours include Chicken Mayo, Egg Mayo, Seafood Mayo, Tuna Mayo and Smoked Salmon - savoury bites that will surely make an impression. 
Eclairs
No afternoon tea is ever complete without desserts and the eclair is certainly the cherry on top to end off your tea break on a high note. Made from choux pastry and filled with pastry cream or custard and then topped with fondant icing, the eclair is a must-have for any afternoon tea. 
Shop our Assorted Mini Eclairs pastry box that comes in chocolate and coffee flavours. 
Afternoon tea etiquettes
Regardless of whether you are heading out to a fancy place or staying home for your afternoon tea, there is always more joy when incorporating these etiquettes for the ultimate experience. Here are some useful ones to know: 
Put your pinkie finger down when holding the teacup 

Hold the teacup by the handle

Feast on the savouries first followed by the desserts

Use your fingers to pick up the pastries

Do not swish the tea around in your mouth

Raise the teacup to your lips and leave the saucer on the table
But of course, these tips just serve as a guide and the most important thing is to enjoy yourself and your afternoon tea. 
Get your afternoon tea pastries from Délifrance
Planning to host an afternoon tea party soon? Consider Délifrance's pastry boxes that can be delivered to your door in Singapore!
Our tea break and finger food options are all halal-certified to cater to a wider range of customers.