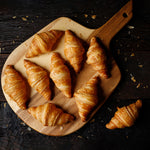 5 Creative Ways To Add Pizzazz To A Croissant
The croissant is one of the most beloved French pastries, but did you know that it originated in Austria and used to be called "kipfel"? The classic flaky and buttery viennoiserie was then brought to France and became a national product that people from all over the world now enjoy.
Learn more: Get A Taste Of France With These 6 Iconic French Pastries & Viennoiseries
If you have always been a big fan of croissants, then you would have probably noticed that it is also a versatile pastry that has endless possibilities - the TikTok-viral circular croissant is an example. 
So the next time you order pastry box delivery in Singapore and want to add pizzazz to your croissants for a twist, these creative ways to switch things up will surely be right up your alley. 
Keep reading to find out more!  
1. Turn it into a croffle
Croffles have been trending for a while now and as their name suggests, are a cross between a croissant and a waffle. This hybrid combines the flakiness of a croissant with the recognisable honeycomb pattern of a waffle to achieve the best of both worlds. 
While most croffle recipes call for uncooked dough or puff pastry, using ready-to-eat croissants included in the pastry box you have purchased will shorten your cooking time by half. Simply sandwich the croissant between the plates of a waffle maker and you will have golden brown croffles in no time; pair them with icing sugar, maple syrup or more butter for a delicious breakfast! 
2. Make it extra savoury
Loads of butter are used to give croissants their intricate layers and flaky crust but you can always take things up a notch by making them extra savoury. All you have to do is stuff your croissants with your choice of filling such as egg mayo or ham and cheese. 
But if you are too lazy to prepare your own stuffed croissants, ordering pastry boxes in Singapore from Délifrance is an alternative. Our Assorted Mini Sandwiches are served in a variety of flavours like Chicken Mayo, Egg Mayo, Seafood Mayo, and Tuna Mayo.
3. Have it as a dessert
Although you are probably more familiar with croissants being savoury pastries, they actually taste equally good as a dessert. 
Many cafes have jumped on the bandwagon of turning croissants into desserts by pairing them with ice cream so take a leaf out of their books to experience a whole new flavour bomb! The crispy crust of a croissant paired with melty and milky ice cream is a match made in heaven. 
4. Pair it with coffee
If the pastry box you purchased comes with plain croissants, you might want to step out of your comfort zone to try something you have never tasted before. 
Learn from the French and dip your croissant into a cup of coffee - the beverage adds an earthy and slightly bitter contrast while intensifying the sweetness and butteriness of the croissant. A quick dunk is all you need; avoid leaving your croissant in the coffee for too long to avoid a soggy mess. 
5. Deep fry it
Deep frying a croissant sounds like a new and adventurous technique but it is definitely worth the extra work as this gives the pastry double the crunch! 
Once the pastry is out of the oil, cover the exterior with a mix of sugar and cinnamon to turn it into churros or doughnuts, but in croissant form. This unique twist is going to be a hit among both young and old. 
Order your croissants from Délifrance
Délifrance's party platters include assorted croissants in a variety of fillings and our pastry boxes come with plain croissants for you to try out these tips.