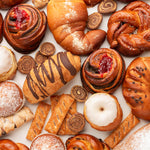 Understanding French Terms: Difference Between Patisserie, Boulangerie & Viennoiserie
You would have most probably heard of French terms like "patisserie", "boulangerie" and "viennoiserie" being used in the culinary world. Even if you are not a chef or baker, knowing what these commonly used terms mean can help to expand your knowledge and allow you to make informed decisions as a consumer. 
Keep reading to find out more. 
What is patisserie? 
A patisserie refers to both a place where French pastries are made as well as the classification of goods sold at the store. Hence, you can shop for pastry boxes containing patisseries like eclairs, macarons and chouquettes at a patisserie.
While the term is loosely used in many English-speaking countries, you would be surprised to find out that laws in France and Belgium only allow shops with licensed master pastry chefs the right to call themselves a patisserie! 
What is a boulangerie? 
On the other hand, a boulangerie refers to a French bakery that bakes fresh bread on its premises. You can expect to find classics like baguettes and pain de champange there. Although a boulangerie mainly focuses on churning out a selection of bread, you can still get your hands on a pastry box there as some sell patisseries and viennoiseries too. 
What is viennoiserie? 
Viennoiseries refer to breakfast pastries that originated in Vienna, Austria, and got popular in France after August Zang, an Austrian military officer and baker, opened a bakery in Paris. They are often dubbed a 'bridge' between patisseries and French bread - think croissants and brioche. 
Learn more: The History & Evolution of Classic French Pastries & Viennoiseries
What are their differences? 
Patisseries vs viennoiseries
It is easy to get patisseries and viennoiseries mixed up. However, they boast vastly different textures and baking methods. Patisseries can be sweet or savoury and do not require yeast while viennoiseries use active levain, are slightly sweet and need a ton of butter to form flaky layers. 
After the patisseries are baked, they are decorated or filled by pastry chefs. But baking is usually the final stage when it comes to viennoiseries and they are ready to savour once they come out of the oven.
Boulangeries vs patisseries
Boulangeries bake bread risen with yeast onsite while patisseries make more elaborate bakes without needing yeast. You can only get a pastry box at patisseries but you may be able to purchase patisseries and viennoiseries other than bread at a boulangerie.
Délifrance Singapore - à pâtisserie et boulangerie offering viennoiseries
Délifrance is a patisserie and boulangerie with over 30 years of experience bringing a taste of Paris closer to home. We only use high-quality ingredients such as 100% French flour to deliver bakes with the best taste and texture. 
We also offer pastry box delivery in Singapore which can be customised according to your budget and needs. Consider including patisseries such as eclairs and chouquettes, French bread like baguettes and viennoiseries like our signature stuffed croissants in your box for the full experience.
Learn more: 5 Creative Ways to Add Pizzazz to a Croissant