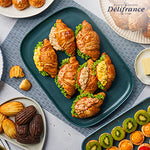 Different Types Of Pastry Meal Caterings To Consider
Thinking of hosting a party or event is all fun and games till you have to start planning - deciding on the theme, decorations, venue, guest list and food and beverage options are all part of the process. 
While all these are important, it would not be an understatement to say that the menu is often what most look forward to. After all, nothing beats indulging in scrumptious bites while enjoying everything else the event has to offer. 
If you are still pondering about what to serve at your upcoming event, look no further than Délifrance's selection of pastries. We provide catering and delivery services in Singapore that will help to take your event to the next level! 
Read on to find out more about the different types of pastry meal caterings you can consider. 
Party platters
Party planning is overwhelming and having to prepare the food yourself only adds to the stress. Luckily, there is no need to get your hands dirty on the day of the event; simply choose party platters and the menu for the day is settled! Another good thing about opting for a party platter delivery is that your guests will get to enjoy a variety of options, allowing you to cater to different people and their tastebuds. 
Our Bundle Set for 20 is the perfect addition to your party as you will be getting the best of both worlds with sweet and savoury bites included. Choose between our Specialty Coffee or Twinnings Tea to add the finishing touches! Furthermore, our bundle set comes in organised and presentable packaging so that it is ready to serve upon delivery without the need to plate it. 
Individual meal boxes
A party platter is great for an intimate celebration with family and friends but if you are planning a bigger event such as a company-wide town hall or school excursion, going for individual meal boxes may be more ideal. Think of it as a lunchbox for each person, but with added pizzazz thanks to the yummy French pastries we offer. A meal box is also a more convenient option, as the pastries come in a takeaway box for portability. 
Our bestselling Allure Box boasts a charming combination of fresh mini sandwiches, mini puffs, mini viennoiseries and chocolate madeleines to fuel your guests for the rest of the event. 
Dessert boxes
Dessert after a meal is not a want but a need and if you agree, then make sure you order dessert boxes too! Our French pastry desserts are not just delicious but also will let your event end on a sweet note, impressing your guests and making it a moment to remember. 
Shop our Mini Fruit Tartlets that are topped with fresh, sweet and juicy fruits or our Assorted Mini Eclairs available in chocolate and coffee flavours. 
Finger food 
If getting a party platter delivery with a fixed menu does not sound like your cup of tea, consider ordering an assortment of finger food instead. Finger food is one of the best options for parties as it is easy to eat and you get to choose exactly what you want to offer your guests. 
Customise your food table with our Mini Tart Canapés, savoury bites topped with Chicken Mayo, Egg Mayo, Seafood Mayo, Tuna Mayo and Smoked Salmon. Add our Assorted Mini Sandwiches to your cart too and choose from croissant, ciabatta, baguette or assorted bread options. 
Breakfast boxes
Lastly, ordering breakfast boxes is a good idea especially for company meetings and team-building events, for instance. They serve as a token of appreciation to staff for participating in the event or as part of staff welfare to motivate them to continue working hard. A heavy breakfast including rice and noodles may make your staff feel lethargic from a food coma, so your next best bet is to order pastry box delivery instead for something light to consume in the morning. 
Our Mini Pastries Box comes with your choice of mini viennoiseries, puffs and choquette to brighten your staff's day. 
Shop pastry meal caterings from Délifrance
Délifrance's pastries and finger food are all halal-certified to cater to a wider audience and available for delivery for added convenience.