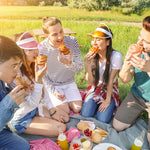 French Pastry Platters: The Perfect Option for a Fun Picnic
Are you craving an indulgent addition to your next picnic? French pastry platters are your best bet! Bursting with exquisite flavours and artfully-crafted delicacies, these platters capture the essence of elegance and decadence to impress your taste buds and picnic companions. From buttery croissants to rich éclairs, getting a French sharing platter is the perfect way to elevate your outdoor dining experience. Here's why!
Learn More: Tea Party Extravaganza: 5 Ways Sharing Platters Make An Impression
1. French Pastry Platters are Easy to Transport Around
French pastries and desserts are often lightweight in nature and made in small sizes that can fit nicely into easy-to-transport food carriers. The design and portability of such a pastry box makes it an ideal choice for experiences that require on-the-go dining, such as picnics. 
Additionally, French pastries can usually stay fresh for extended periods of time due to the high-quality ingredients they are made from and how they are carefully preserved. Whether you're enjoying a leisurely picnic at the beach or going on a day-long adventure, these pastries can be brought around easily and enjoyed at any time of the day. 
2. French Sharing Platters are Easy to Share
French pastry platters showcase the exquisite artistry of French baking and offer the perfect opportunity to share with your loved ones a variety of sweet and savoury treats. With their wide array of flavours, textures, and colours, these sharing platters bring joy and elegance to any gathering, indoor or outdoor. 
The assortment of miniature pastries featured in these platters also make it easy for everyone to get a taste of everything. From delicate macarons to buttery croissants, there is something to satisfy every palate. Sharing also encourages interaction, creating a convivial atmosphere. 
3. French Sharing Platters are Visually Appealing
The meticulously crafted pastries featuring delicate piping, beautiful glazes, and artful garnishes make the French sharing platter a visual delight. Sharing such an elegantly-presented platter filled with vibrant colours enhances the enjoyment of food and creates an atmosphere of sophistication and indulgence. These pastries become not just a feast for the taste buds but also for the eyes, elevating the overall picnic experience. 
4. French Pastries do not Require Reheating
Another advantage of French pastry platters for picnics is that they can be enjoyed without the need to be reheated. This makes them incredibly convenient for outdoor gatherings, where access to ovens or microwaves is limited or nonexistent. Whether you're enjoying a leisurely picnic in a park, on a beach, or in your backyard, these pastries remain fresh, flavourful, and ready to be savoured.
5. French Pastries can be Eaten Easily Without Utensils
When it comes to picnics, convenience and portability are key, and French pastry platters excel in both aspects. Unlike other desserts that require utensils, these pastries can be enjoyed with just your fingers. They are conveniently bite-sized, allowing guests to savour each treat without the need for plates or forks. This makes them a hassle-free option for outdoor gatherings where simplicity and convenience are valued.
French pastry platters are an excellent choice for picnics due to how easy they are to bring around, the variety they offer, their visual appeal, and ease of consumption. The splendid selection of bite-sized treats makes them a convenient and delightful option for outdoor gatherings. So, the next time you plan a picnic, consider getting a French sharing platter delivery to add French pastries to your menu for an unforgettable and delicious experience.
Indulge in French Fusion Local Delights this National Day
This National Day, go on an outdoor gathering around iconic picnic spots in Singapore with some of your favourite French pastries made with a Singaporean twist! Savour a variety of locally-inspired dishes from Délifrance's newly launched National Day menu, featuring dishes such as the Curry Chicken Potato with Baguette ($11.80), Otah Swirl ($4.20) and the Merlion Tropical Fizz ($6.20). Grab them in-stores from now till 30 September 2023!