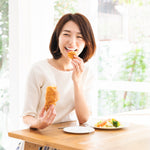 The French Art of Breakfast: Delicious Ideas to Start Your Day
The French have a simple approach to breakfast, but the way they view this meal reflects the nation's passion for culinary excellence and appreciation for the finer things in life. From the aroma of freshly baked croissants to the silky smooth café au lait, let us share with you more about the French breakfast experience and some breakfast ideas to help you start your day on the right foot. 
The French Art of Breakfast
Unlike the quick, on-the-go breakfasts common in many countries, the French prioritise savouring each bite and relishing the experience when having their first meal of the day.
They may kick off their day with the quintessential croissant or a beignet, along with other delightful pastries like a pain au chocolat or a brioche, as well as a variety of spreads like fruit jams. On the breakfast table, you'll also find freshly brewed coffee, such as a café au lait (coffee with steamed milk) or an espresso.
Love the idea of a leisurely and delicious meal before the busyness of the day begins? We have some breakfast ideas to help you get started.
Learn More: Indulging In A Typical & Authentic French Breakfast In Singapore
Delicious French Breakfast Ideas
1. Freshly Baked Croissant with Butter and Jam
If the iconic French breakfast featuring fresh croissants is what you fancy, then serve it together with luscious butter and exquisite jams for a combination of flavours and textures. The buttery and flaky croissant, when paired with a velvety spread of savoury butter and balanced with the fruity sweetness of your favourite jam, adds a harmonious contrast that delights your taste buds. 
2. Breakfast Sandwiches with Baguettes or Croissants
Making mouthwatering breakfast sandwiches like the Croque Monsieur or Croque Madame with a base of toast, baguette or croissant, can be a splendid way to fill your tummy in the mornings. 
For a Croque Monsieur, simply fill your bread choice with a generous amount of ham, creamy béchamel sauce, and a layer of melted Gruyère cheese. Then, grill it till the exterior becomes perfectly crisp. Alternatively, you can take it to another level by topping it with a perfectly fried or poached egg. This turns your Croque Monsieur into a Croque Madame, giving you a gastronomic experience to start your day with. 
Délifrance's different pastry box offerings are filled with a variety of pastries perfect for the mornings. From the simple, buttery croissant to a healthy breakfast sandwich, their pastry box has just what you need. Order Délifrance's pastry box delivery here. 
3. Fresh Fruit Salad or Tartlets for a Dose of Nutrients
From succulent berries to tropical kiwis and ripe mangoes, fruits offer a burst of natural sweetness and a refreshing juiciness that awakens the senses. Not only is a fruit salad or fruit tartlet visually appealing, it also provides essential nutrients such as antioxidants and vitamin C. 
Pairing a delicate fruit tartlet from Délifrance's meal box with a buttery croissant or the richness of a Croque Madame balances the flavours you're introducing to your taste buds in the morning. 
4. Pair Your Meal with a Beverage
Whether you need a dose of caffeine in the morning or a refreshing cup of juice, pairing your sumptuous French breakfast with a choice of hot coffee, tea, or fruit juice is a great way to invigorate your senses. 
Apart from helping to wash down the contents of your breakfast, the extra flavours provided by your choice of beverage also elevates the overall breakfast experience. 
Start Your Day Right with Délifrance
For those seeking a more tranquil start to the day, the French way of breakfast will surely energise you and help fill every day with joie de vivre—joy of living. 
Délifrance's pastry box delivery in Singapore offers a variety of flavours and textures you can add to your breakfast. From puff pastries and croissants to generous breakfast sandwiches, there's something for every taste bud. Order your pastry boxes here.