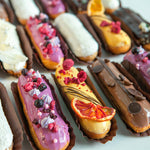 7 Must-Have French Desserts To End Any Party On A Sweet Note
Are you looking to add a touch of French sophistication and sweetness to your next party or gathering? Look no further than these must-have French desserts that are sure to impress and delight your guests.

Whether you are hosting a fancy soirée or simply want to treat yourself and your loved ones to something special, French desserts are the perfect way to end any meal on a high note.

Keep reading to explore the world of French pastries, tarts and cakes and make sure to include them in your next dessert box delivery order for your party!

1. Crème brûlée


A quintessential French dessert that never fails to impress with its velvety smooth texture and irresistible combination of creamy custard and caramelised sugar, the crème brûlée has become a beloved staple of menus all over the world. Whether you are a crème brûlée connoisseur or new to the game, this classic dessert is sure to delight your taste buds and satisfy your sweet tooth.

2. Éclair
If you are a fan of French pastries, then you are likely familiar with the indulgent and delicious éclair. This delicate and airy pastry is traditionally filled with rich, creamy custard and coated in a glossy chocolate glaze, making it a decadent treat that is hard to resist. Fun fact: 'éclair' translates to 'flash of lightning' and some have attributed it to the pastry's shiny glaze that resembles a spark, while others believe it is because of how rapidly they are consumed.

Order your dessert box from Délifrance for cream-filled eclairs in Chocolate and Coffee flavours for a twist.

3. Financier

These small, rectangular cakes are made with almond flour, butter and egg whites, giving them a moist and delicate texture. While they may not be as well-known as other French pastries, financiers have a devoted following among pastry enthusiasts and foodies. Whether enjoyed as a midday snack or an after-dinner treat, financiers are a perfect example of the simple yet elegant flavours that define French pastry.
4. Madeleine
If there is one French pastry that is sure to transport you to the streets of Paris with just one bite, it is the madeleine. These delicate and buttery shell-shaped cakes may be small in size, but they are big on flavour and have a rich history in French culinary tradition. In fact, so deeply embedded are madeleines in French culture and everyday existence that they were selected to symbolise France on Europe Day in 2006!
When you order dessert box delivery in Singapore from Délifrance, you get the best of both worlds with the option of classic madeleines or unique flavours like Triple Chocolate and Pandan.

5. Canelé
Canelés are small, caramel-coloured cakes made with a custard-like batter that is flavoured with rum and vanilla. Boasting a rich and complex flavour and a distinctive ridged shape, this lesser-known dessert is a great representation of the artistry and craftsmanship that go into French pastries that will surely delight your guests.
Learn more: Step-By-Step Guide To Planning An Afternoon Tea Party At Home

6. Chouquette
Craving something light and airy with just the right amount of sweetness? Say bonjour to chouquettes - these tiny puffs of pastry are sprinkled with pearl sugar, making them the perfect snack for any time of day. Their light and airy texture and subtle sweetness make them the ideal pastry for any party, whether enjoyed with coffee or tea or simply as a sweet indulgence on their own.
Délifrance's dessert boxes let you take your pick from a choice of mini viennoiseries, puffs and chouquettes.
7. Macarons
When it comes to French pastries, few can rival the delicate and decadent macaron. These small and colourful confections are made with almond flour, egg whites and sugar, and are filled with a variety of sweet and creamy fillings. Macarons have a rich history in French culinary tradition, and their popularity has only grown in recent years thanks to their Instagram-worthy appearance and delicious flavour.
Learn more: The History & Evolution Of Classic French Pastries & Desserts
Bring a touch of elegance and sophistication to any party with French desserts
Add a touch of French flair to your next party or celebration, and indulge in the delectable delights that French desserts have to offer by ordering dessert box delivery from Délifrance.
Our halal dessert boxes are great for all types of events and parties - check them out now!