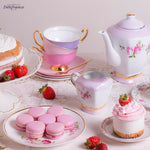 Step-By-Step Guide To Planning An Afternoon Tea Party At Home
Afternoon tea parties have evolved significantly over the years - from elegant sit-down high tea to having a snack in between meals, tea time is versatile enough for a wide range of celebrations.
If you are planning to host your very own afternoon tea party in the comfort of your home, then this step-by-step guide to planning one will help you throw an event to remember.
Keep reading to find out more!
1. Choose a date and time, then send out your invites
First and foremost, deciding on a date and time for your afternoon party is crucial. This sets the foundation for further planning, such as getting guests to RSVP, knowing how much food you need when ordering tea break delivery in Singapore and dietary requirements like halal-certified and vegan options. Once you have gotten the details ready, you should send your invites out at least a month in advance to provide your guests and yourself ample time to reply and prepare.
2. Plan the menu, then order catering early
No party is ever complete without food and drinks - once you have a finalised number of guests attending, you should start planning the menu as soon as possible. If you have no idea which caterer to order from, consider Délifrance! With more than 30 years of experience in offering authentic French pastries and desserts, our sharing platters and meal boxes are a sight to behold and taste as good as they look.
Learn more: Tea Party Extravaganza: 5 Ways Sharing Platters Make An Impression
Select from croissants, viennoiseries, tartlets, madeleines and more to wow your guests during the party. It is always a good idea to include both sweet and savoury items, so make sure to get dessert box delivery too.
3. Set up and decorate the table
Next, set the table and decorate it to provide your guests with the full afternoon tea party experience. Get napkins, dessert trays, teapots and mugs, flowers and more to transform a mundane-looking table into an Instagram-worthy one. Then add the sharing platter you have ordered to the mix and you will have the perfect setup in no time.
4. Add pizzazz with a soothing playlist
Just like how food is indispensable at a party, music is also essential. Play some soothing music in the background to set the ambience and get everyone in the mood for a relaxing afternoon tea.
5. Sit back and enjoy
Lastly, sit back and enjoy your time as the host of the tea party! While it is understandable to feel the jitters as a first-time host, knowing some afternoon tea etiquette will come in handy and help you look like a pro. For instance, put your pinkie finger down when holding the teacup and use your hands to pick up the pastries instead of a fork and knife.
Learn more: Your Guide To French Afternoon Tea: Pastries To Get & Etiquettes To Follow
Start planning for your afternoon tea party with Délifrance
Here at Délifrance, we understand that planning for an afternoon tea party can be overwhelming. But you can leave all your worries behind when you order sharing platters or dessert boxes from us.
Shop from a range of delicious and authentic French pastries and desserts.